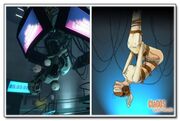 If you're looking for cake, there is none.
GLaDoS is a bounded and gagged woman
Edit
According to this fan theory, GLaDos, the video game's antagonist, is actually a human that was bound and gagged for unknown reasons. According to the theory, one of the writers of the game explained that GLaDoS was originally based upon the famous Botticell painting, "The Rise of Venus," and that they had ultimately chosen a delicate mechanical body that would define GLaDoS' feminity and power.
Ad blocker interference detected!
Wikia is a free-to-use site that makes money from advertising. We have a modified experience for viewers using ad blockers

Wikia is not accessible if you've made further modifications. Remove the custom ad blocker rule(s) and the page will load as expected.