"You still live... How astonishing. No wonder some call you "hero". But this is truly a bittersweet reunion... Truly! For I fear this is the last time I will see you alive!" — Zant
Twilit Fossil, Stallord (蘇生古代竜 ハーラ・ジガント Sosei Kodai Ryū Hāra-Jiganto?, Resurrected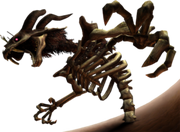 Ancient Dragon Hahra Gigant) is the boss of the Arbiter's Grounds, the fourth dungeon in The Legend of Zelda: Twilight Princess. Stallord is the skeleton of a dead beast found inside the Arbiter's Grounds. It has a roughly humanoid upper body protruding from a pit of sand, and a horned animal head comparable to a goat or dragon. Its lower body is never seen; in fact, whether its lower portions were even present at the time is unknown. Several weapons are embedded in the beast's skull, possibly the cause of its death. The music played during the battle against Stallord incorporates, partly, reinstrumentalized versions of the music played during the battles against King Dodongo and Volvagia in The Legend of Zelda: Ocarina of Time. By name, it is the king of the Stalfos in Arbiter's Grounds.
Stallord may be the dragon Volvagia from Ocarina of Time, as he was never revived in the Twilight Princess timeline and has a very similar appearance (aside from being only a skeleton), abilities (fire breathing) and the same music. However, this seems unlikely, as Stallord is considerably bigger than Volvagia was, and Stallord is found in the Arbiter's Grounds which is directly across from Death Mountain where Volvagia had lived. There are also physical differences such as Stallord having some hair around its neck, while Volvagia had a mane of flames; Stallord's dental structure differs from Volvagia's; Stallord has ten digits in all while Volvagia only has six; and Stallord has relatively long arms, while Volvagia's in comparison are very short.
Another way Stallord could have been Volvagia is that technically, Link never fought Volvagia in the first place. Due to Princess Zelda sending Link back in time, and Link stopping Ganondorf from taking the Triforce of Power, Volvagia was never killed by Link in the child timeline. Some believe that as a last resort, Ganondorf created a few monsters (one being Volvagia) but was arrested by the Sages. The reason Stallord was in Arbiter's Grounds may be because Volvagia couldn't be killed, so they sealed it inside its chamber to keep it from doing any harm. How Volvagia died however, is a different story. It very well could have been starvation. The vast numbers of Staltroops seemed to wear similar armor to the Knights of Hyrule, so they may have been the warriors that died helping to take down and seal up Volvagia.
King Dodongo
Edit
o a theory that Stallord is King Dodongo, another boss from Ocarina of Time, which is reptilian in appearance, similarly to Stallord. Sections of the music played during the boss battle against King Dodongo are reused during the battle against Stallord. However, this theory is also discredited based on several physical differences (arm length, digit number, general proportion of limbs, torso, hair and head). Also, the Desert and the Mountains are very far apart, and when King Dodongo was defeated, his body was apparently trapped in the lava of his own chamber.
Dark Dragon
Edit
It is also possible that Stallord is based on General Onox's Dark Dragon form from The Legend of Zelda: Oracle of Seasons. The body proportions, in terms of arm length, horn size and shape, and facial structure, are quite similar. In addition, Stallord's lack of a lower half rings similar to how Onox has a tail and no hind legs. However, the Dark Dragon only has four fingers, unlike Stallord, and also had wings, which Stallord lacks (although they may have been buried in the sand before the events in the game). Also the Dark Dragon only seems to have eight teeth during its boss fight, unlike Stallord, which has ten teeth (although arguably, not all of the Dark Dragon's teeth were seen). Lastly, Holodrum and Hyrule are very far apart. However, it should be noted that Onox's speech before the final battle implies that he was actually native to the Dark Realm and not to Holodrum.
Execution Beast
Edit
Another possibility is that Stallord was used for execution when the Arbiter's Grounds were still in use, due to Stallord's chamber being situated directly beneath the chamber where those condemned were banished to the Twilight Realm. The chamber itself seems like it was designed so that several people would be placed on the pillar and lowered to the bottom where Stallord would subsequently devour them. Supporting this is the abundance of Staltroops, being animated skeletons, which are theorized to be prisoners killed by Stallord.
Other Origins
Edit
Another possibility is that Stallord was simply an unnamed monster killed prior to the game by another hero. Throughout the Arbiter's Grounds, wall engravings show a figure with a shield fighting a large monster, possibly Stallord, which may suggest that Stallord's first death was because of an ancient hero and not of natural causes. Shapes similar to Stallord's head are on all the doors in the Arbiter's Grounds.
The chamber Stallord is found in shares a couple of shapes similar to the Sealed Grounds in Skyward Sword: downward-pointed cone (although this is not the shape of the chamber itself, but rather of the sand during the first part of the battle), and spiral (the tracks Link rides, and the edge of the Sealed Grounds pit). Stallord also has a sharp object embedded in the top of it's skull, a similarity it shares with Demise. It may be that the game's designers intended to infer that the two bosses are somehow linked, or were merely drawing on a previous game for design. The similarities could also be purely coincidental. In SS the Sealed Grounds and Gerudo are far apart, diminishing the likelihood that Stallord is Demise's remains.
Ad blocker interference detected!
Wikia is a free-to-use site that makes money from advertising. We have a modified experience for viewers using ad blockers

Wikia is not accessible if you've made further modifications. Remove the custom ad blocker rule(s) and the page will load as expected.